Your semester way is an exciting time to define, explore, and refine your career readiness skills. One of the most effective and important ways to do so is to explore hands on learning through internships and co-ops. 
Our experienced team of career counselors in the CCPD is eager to support you in your search and selection of away semester opportunities. 

Below, find a list of services & offerings by the Center for Career and Professional Development to strategize your search. 

Questions? E-Mail the CCPD@rpi.edu or connect with the career counselor for your major. 
Internship & Co-Op Search Resources
Handshake
Handshake is RPI's career management platform, where students can access career resources, connect with employers, attend workshops, apply to jobs, and schedule meetings with their career counselor.
Students can access their Handshake profile here. If you're a student and having issues with your account, please e-mail ccpd@rpi.edu .
Workshops
The CCPD hosts a variety of workshops and sessions throughout the year. These topics range from career readiness, to employer engagement, and more! New workshops added and updated daily in Handshake, be sure to register for any event.

Employer Events and Networking
Employers of RPI students regularly host information sessions, tech talks, and other recruiting events to connect students to opportunities in their company. This is a great opportunity for students to network with employers and build their professional toolkit.

Jobs & Internships
Employers of RPI students will regularly post a selection of internships and co-ops to our Handshake. To find these opportunities, log into Handshake and select "Jobs".
Did you know?
You can use the Handshake labels feature to search for Arch-specific opportunities. Select jobs à filter à labels à select your semester away designation and see opportunities available for you.
Students have numerous opportunities to connect with a career counselor on a regular basis through Drop Ins and student appointments.
Drop Ins
The CCPD hosts daily drop-ins from 1-3pm in DCC209. During this 15-minute consult, students can talk to a career counselor about a number of career planning topics, including: application materials, searching for opportunities, professional headshot, LinkedIn and more!
Appointments
Through Handshake, students can schedule a 30 to 60 minute appointment with the career counselor for their major. This can be done in person, virtually, or through e-mail. If you are having trouble scheduling an appointment, please contact the career counselor for your school:
School of Architecture: Erika Cary, carye@rpi.edu
HASS: Rawdon Marroquin, marror@rpi.edu
Lally School of Management, Michael Wager: wagerm@rpi.edu
School of Science/ITWS, Emily Killian, killie@rpi.edu
School of Engineering, Emily Seils - seilse@rpi.edu , or Kristen Kettering, kettek@rpi.edu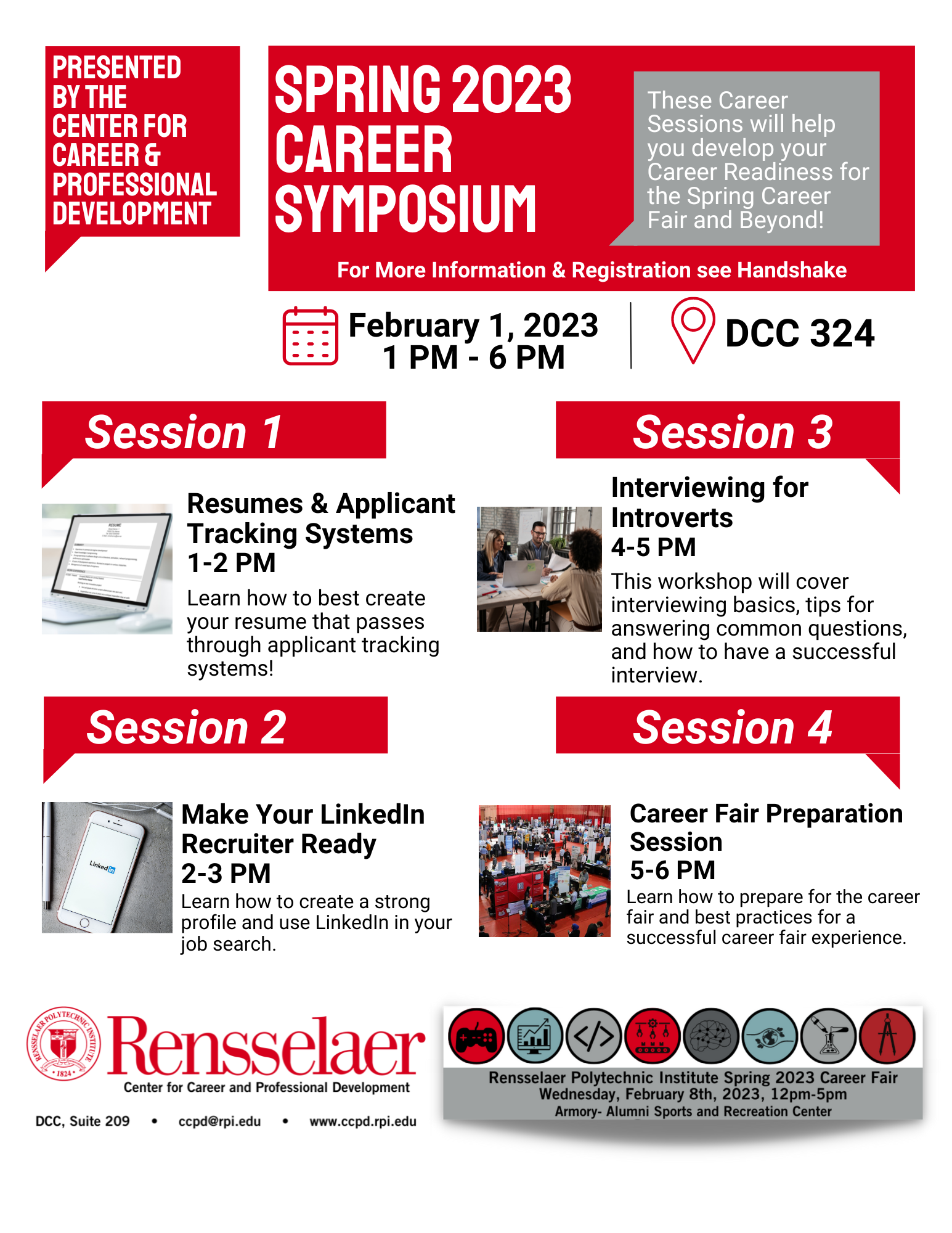 Student registration is NOW OPEN for the Spring 2023 Career Fair! Find the fair here in Handshake: https://app.joinhandshake.com/stu/career_fairs/37153. If you register by the end of the day on Wednesday, February 1st, you'll receive a professional printed nametag and RPI branded folder! You'll be able to pick up your name tag and folder in the Great Hall of the DCC between 9am-4pm on February 3rd, 6th, or 7th.
Please note that Handshake has made some minor interface updates. If you are searching for the career fair manually, you should navigate to the "Events" tab at the top of the page, then click on "Category" and check the box for "Career fair" - you should then see the RPI Spring 2023 Career Fair show up as one of the first results!