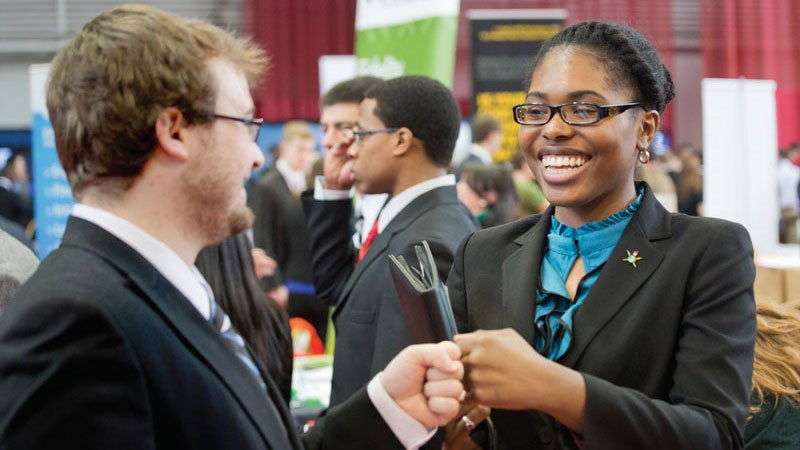 Now More Than Ever The World Needs Rensselaer
With over 7,500 students and nearly 100,000 living alumni, Rensselaer is addressing the global challenges facing the 21st century—to change lives, to advance society, and to change the world. The Center for Career and Professional Development (CCPD) wants to connect you with top-quality talent that matches your desired skill set and unique environment.
Areas Of Recruitment
Rensselaer offers more than 145 programs at the bachelor's, master's, and doctoral levels. Undergraduates can choose from among 41 majors and 47 minors in the following areas:
Rensselaer Students at a Glance
Analytical problem-solvers with critical thinking skills
Equipped with functional knowledge and technical skills
Strong interpersonal, leadership, and communication skills
Intellectual curiosity promoting lifelong learning
Enhanced global perspective and multicultural sophistication
Proven ability to work in a team-oriented environment
Over 60 percent of students attending Rensselaer were in the top 10 percent of their high school class, with an average SAT score of 1400. U.S. News & World Report ranked Rensselaer 42nd among U.S. research universities.
Rankings
1st ITWS program - College Choice The Rensselaer Information Technology and Web Science (ITWS) program was the first of its kind in the United States.
6th of top U.S. engineering colleges - USA Today
Graduate engineering programs rank 39th in the nation by U.S. News & World Report.
#9 Best Undergraduate Game Design Program – U.S. News & World Report 2023
#9 in Undergraduate Research – DesignIntelligence 2020
#1 Best Computer Engineering Technology Schools – College Factual 2022
#8 in New York State – US World University Rankings 2020
Top 10 of U.S. Game Design Schools Animation Career Review
Location
Rensselaer Polytechnic Institute is located in Troy, New York—a thriving metropolis within the state's Tech Valley.