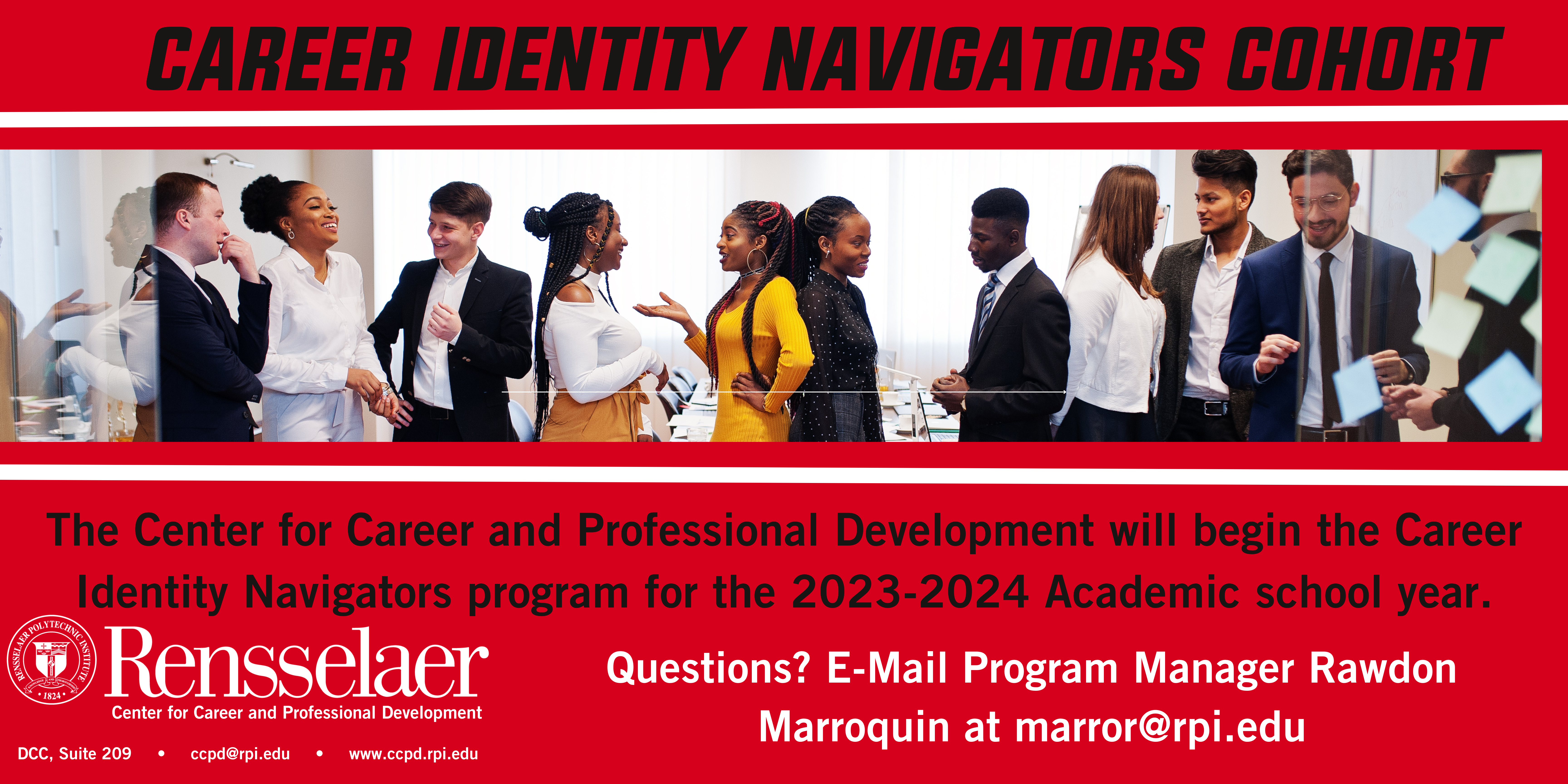 Career Identity Navigators Information & Application
As part of this year long cohort, we will work towards learning how to actively claim your intersectional identities in future career endeavors while focusing and highlighting your experiences with a career-focused mindset.
The core values of the program are to highlight Awareness, Knowledge, and Advocacy that will help students within the cohort navigate their experiences in developing, learning, and engaging the nuances of holding and claiming space for their identities in their future work/personal environments. The program will strive to focus and highlight students' experiences (both personal and professional) with a career-focused mindset to help shape their intersectionality in engaging with employers/companies/organizations in their respective fields.
Students who are selected will attend seminar-style forums throughout each semester that will be broken down between the Fall & Spring Semesters.
Fall Semester the sessions will encompass career readiness, application building and development, etc.

Spring Semester the sessions will utilize students career readiness into applicable career connections that highlight employer engagement and outreach to better claim your identities through a career mindset.
Resume Builder

Great Campus Involvement Opportunity

Develop skills in: Career & Self-Development, Communication, Critical Thinking, Equity & Inclusion, Leadership, and Teamwork (NACE Career Competencies)

The cohort Model will allow students to develop a shared community and goals that progress through this experience together over the course of this program.

Explore and develop your knowledge and experiences for the workplace.

Acknowledge and determine what green versus red flags you should look for as you apply to various experiences.

Uncover how to best promote your voice and claim your space on campus and in your potential employer environments.
This application hopes to emphasize the core values of the program to highlight Awareness, Knowledge, and Advocacy. These core values will help this cohort develop and navigate the varied experiences you each have while also affirming fairness, belonging, and the voices of everyone in the cohort.
These questions will benefit our committee as we think about planning and space usage for the academic year.
This application provides our committee with a good introduction into your journey through internationality so that we are able to dive into the various topics highlighted in the program!