The Center for Career and Professional Development (CCPD) at RPI is recruiting for two new student leadership opportunities in the office: Peer Career Advisor and Career Identity Navigators.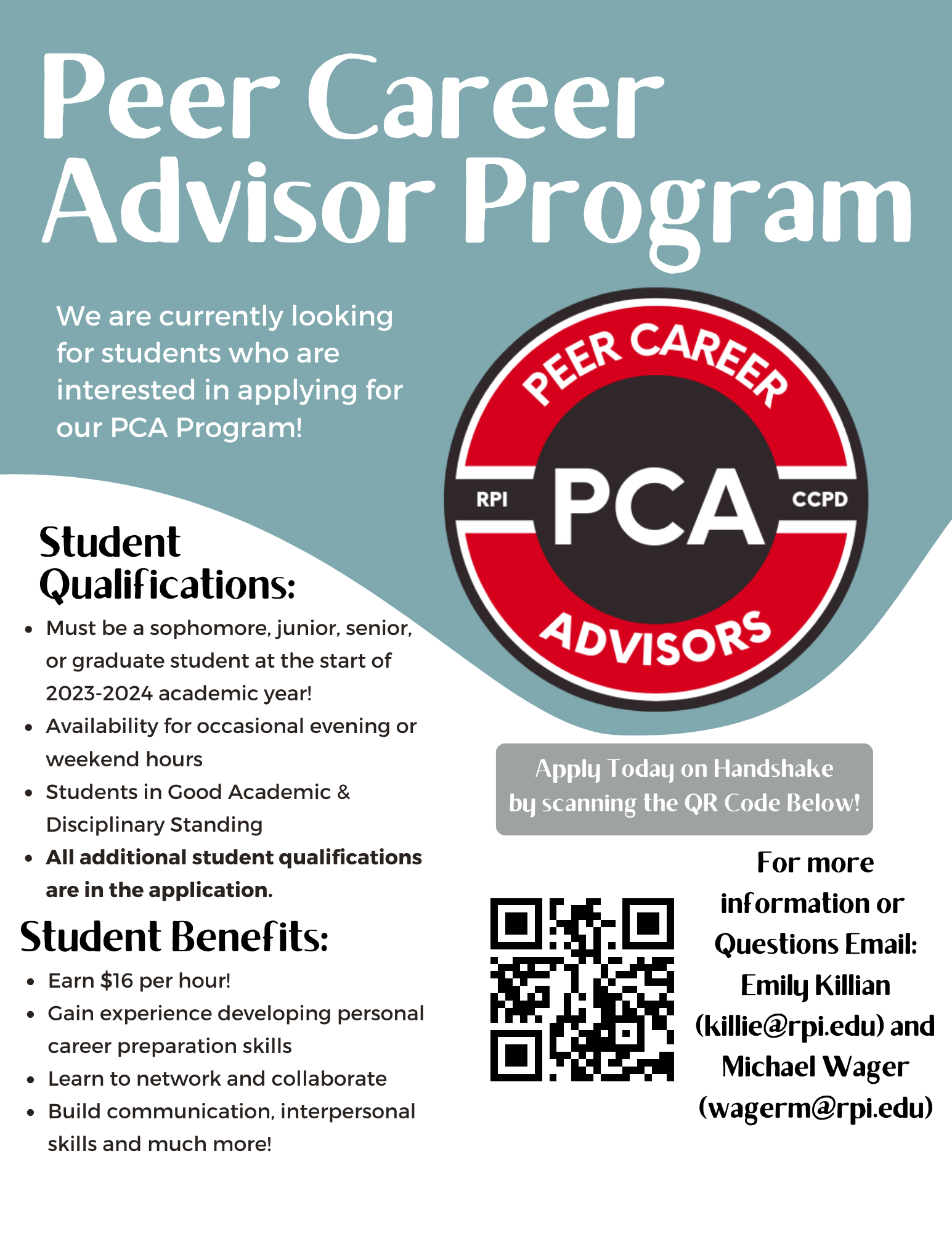 Peer Career Advisor:
Peer Career Advisors are RPI students trained by Center for Career and Professional Development staff to help current undergraduate and graduate students with career topics such as resume and cover letter reviews, basic job search strategies and resources, and other general advice. The Peer Career Advising program will welcome its first cohort in the Fall of 2023. We are actively recruiting PCAs throughout the Spring of 2023, so if you are a current student (undergraduate or graduate) and interested, please apply via Handshake.
More Information:  ccpd.rpi.edu/PCA
To Apply: Submit application materials in Handshake: https://rpi.joinhandshake.com/jobs/7401506/share_preview
Questions, please contact program administrators Emily Killian (killie@rpi.edu) or Michael Wager (wagerm@rpi.edu) 

Career Identity Navigators: 
As part of this year long cohort, we will work towards learning how to actively claim your intersectional identities in future career endeavors while focusing and highlighting your experiences with a career-focused mindset. 
The core values of the program are to highlight Awareness, Knowledge, and Advocacy that will help students within the cohort navigate their experiences in developing, learning, and engaging the nuances of holding and claiming space for their identities in their future work/personal environments. The program will strive to focus and highlight students' experiences (both personal and professional) with a career-focused mindset to help shape their intersectionality in engaging with employers/companies/organizations in their respective fields. 
More Information: https://ccpd.rpi.edu/career-identity-navigators

To Apply: Visit the webform at the bottom of our website https://ccpd.rpi.edu/career-identity-navigators

Questions? Please contact Program Manager Rawdon Marroquin at marror@rpi.edu 
Upcoming Information Sessions: 
Tabling, Monday 2/13, 12-2 Great Hall in DCC
Info sessions, Tuesday 2/21, 12-1 & 4-5 in CCPD
Tabling, Friday 2/24, 11-1 in the Union